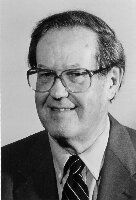 Contact Information
Department of Anthropology
209J Davenport Hall
607 S Mathews Ave.
M/C 148
Urbana, IL 61801
Biography
I received an A.B., A.M. and Ph.D. from Harvard in anthropology (the latter in 1966) and an M.A. in vertebrate paleontology from the University of California, Berkeley in 1956. I was a visiting fellow at the Australian National University in Canberra twice, once in Demography (NSF postdoc 1967-68) and once in Prehistory (1978). I held summer appointments at the University of Utah (1969) and the U.S. Army Natick Research, Development and Engineering Center, Natick, MA (1991). Otherwise, except for 1966-70 when I was an assistant professor of anthropology at Harvard, I have been an instructor, associate and full professor at UIUC from 1964 to 1999 and an associate dean in LAS and in the Graduate College for a total of seven years. I am presently Professor Emeritus. Professionally, I have been president of the American Association of Physical Anthropologists (1981-83) and previously served on its executive committee and that of the Human Biology Council and on the Board of Directors of the American Board of Forensic Anthropology.  The Physical Anthropology Section of the American Academy of Forensic Sciences gave me its T. Dale Stewart Award in 2004 and the American Association of Physical Anthropologists its Charles R. Darwin Lifetime Achievement Award in 2005.
Research Description
Although I have done anthropological genetic research in Yucatan and osteological research in Australia, my primary early research focus was on the origin and diversity of the indigenous populations of Melanesia, particularly Papua New Guinea and the Solomon Islands, as revealed by anthropological genetics, based on 19 months of fieldwork. I have always been interested in forensic anthropology, and my interest and research in that area has increased in recent years. My primary current research is the history of physical anthropology in the U.S. during the period dominated by Earnest A. Hooton of Harvard University, 1914 to 1954.
Education
A.B., Harvard University
M.A. Vertebrate Paleontology, University of California, Berkeley, 1956
A.M., Harvard University
Ph.D. Anthropology, Harvard University, 1966
Highlighted Publications
EDITED BOOKS
Giles, E, and J.S. Friedlaender. The Measures of Man: Methodologies in Human Biology. Cambridge, MA: Peabody Museum Press, 1976.
BOOK CONTRIBUTIONS
Klepinger, L, and E. Giles. "Clarification or confusion: statistical interpretation in forensic anthropology." Forensic Osteology, edited by K.J. Reichs. Springfield, IL: C.C. Thomas, 1998, p. 427-440.
JOURNAL ARTICLES
Giles, E, and D.L. Hutchinson. "Stature- and age-related bias in self-reported stature." Journal of Forensic Sciences, vol. 36, 1991, p. 765-780.
Giles, E, and P.H. Vallandigham. "Height estimation from foot and shoeprint length." Journal of Forensic Sciences, vol. 36, 1991, p. 1134-1151.
Giles, E, E. Ogan, and A.G. Steinberg. "Gamma-globulin factors (Gm and Inv) in New Guinea: anthropological significance." Science, vol.150, 1965, p. 1158-1160.
Giles, E, and O. Elliot. "Sex determination by discriminant function analysis of crania." American Journal of Physical Anthropology, vol. 21, 1963, p. 53-68.
Giles, E. "Multivariate analysis of Pleistocene and recent coyotes (Canis latrans) from California." University of California Publications in the Geological Sciences, vol. 36, 1960, p. 369-390.
Giles, E. "Cranial allometry in the great apes." Human Biology, vol. 28, 1956, p. 43-58.