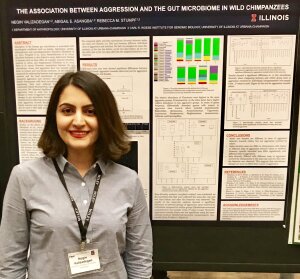 Contact Information
Department of Anthropology
607 S Mathews Ave.
Urbana, IL 61801
Biography
I am a Ph.D. student in Biological Anthropology. I am interested in the relationship between humans, wildlife, and their environment including ecology and evolution of host-microbe interactions, susceptibility to diseases and species reaction to environmental factors. I have been involved in several projects including several studies on the evolution of the immune system response to infectious agents such as Toxoplasma gondii, Yersinia pestis and E.coli in human and non-human primates and a study on the link between the gut microbiome and behavior in chimpanzees. My dissertation research in Brinkworth Lab and Stumpf Lab is focused on the link between variations in blood microbiome and immune system responses to gram-negative bacterial LPS in primates.
Research Interests
Host-microbe interactions, Microbiome, Immune system evolution, Bioinformatics
Research Description
My research is focused on the evolution of blood microbiome in primates and its link to susceptibility to infectious diseases and involves multi-measure assessment of microbial taxa and functional profiles in the blood of microbiome and the primate hosts. My research requires knowledge of genomic and cell culture wet lab skills to measure the concentration of microbial components, extract DNA and RNA, culture blood and dry lab skills related to data analysis of next-generation sequencing data such as amplicon and metagenomic sequencing for microbiome research and RNA sequencing for the study of differential gene expression.
Education
BSc in Cellular and Molecular Biology, University of Tehran, 2009
MSc in Environmental Sciences (Conc. in Habitat and Wildlife), Gorgan University of Agricultural Sciences and Natural Resources, 2013
MA in Biological Anthropology, University of Illinois, 2018
Awards and Honors
2019 Graduate College Conference Travel Award, University of Illinois at Urbana-Champaign
2017, 2018, 2019 Leadership Award for Environmental Stewardship in Sustainable Laboratory Practices, Institute for Sustainability, Energy, and Environment, University of Illinois at Urbana-Champaign
2016, 2017, 2018, 2019 Conference Travel Award, Department of Anthropology, University of Illinois at Urbana-Champaign
2017 Teaching Excellence Award, Center for Innovation in Teaching and Learning, University of Illinois at Urbana-Champaign (Biological Anthropology)
External Links
Highlighted Publications
JOURNAL ARTICLES
Yousefi, Masoud, Anooshe Kafash, Negin Valizadegan, Sayyad Sheikhi Ilanloo, Mehdi Rajabizadeh, Shima Malekoutikhah, Seyyed Saeed Hosseinian Yousefkhani, and Sohrab Ashrafi. "Climate change, a major problem for biodiversity conservation: a systematic review of recent studies in Iran." Contemporary Problems of Ecology, 2019.
Mahmoudi, Saleh, Sayyad Sheikhi, Aqil Keyvanloo, Negin Valizadegan, and Masoud Yousefi. "Effect of human-induced forest edges on the understory bird community in Hyrcanian forests in Iran: implication for conservation and management." Forest Ecology and Management, 2016.
Farhadinia, Mohammad Sadegh, and Negin Valizadegan. "A Preliminary Demographic Assessment of Syrian Brown Bear (Ursus arctos syriacus) in Golestanak, Northern Iran." Journal of Threatened Taxa, 2015.