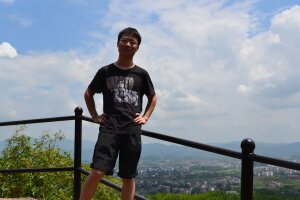 Sociocultural Anthropology
Biography
Yue Liao is a PhD Candidate in the Department of Anthropology. 
Research Interests
Agriculture; Food, Supply Chain; Governance; Postsocialism; China
Research Description
My dissertation project examines the world-making aspect of the agricultural processes which bind Shanghai to a vegetable-growing hinterland 400 miles away, in Lanling County. I focus on the economic practices through which Lanling farmers, as vegetable-producing/trading subjects, shape and are shaped by the supply chains that link their agricultural activity to the larger world beyond the rural countryside.
Education
University of Illinois at Urbana-Champaign    2017-present
Sun Yat-sen University    2014-2016       
Ren Min University of China   2010-2014       
Awards and Honors
2022, Wenner-Gren Dissertation Fieldwork Grant, The Wenner-Gren Foundation
2021, Meituan Fellowship, Meituan Research Institution
2020, Graduate College Dissertation Travel Grant, UIUC
2020, Summer Supplemental Block Grant Fellowship, Department of Anthropology, UIUC
2019, Graduate Student Summer Research Assistance Awards, Department of Anthropology, UIUC
2019, Demitri B. Shimkin Award (Honorable Mention), Department of Anthropology, UIUC
2019, Graduate Prize for Research in the Humanities (Honorable Mention), Illinois Program for Research in the Humanities, UIUC
2018, Sixth Tone Fellowship, Sixth Tone
2016, Li Ji Archaeology Scholarship Nomination Prize, Institute of Archaeology, CASS
2015, Outstanding Graduate Student Scholarship, SYSU 
2014, Social Investigation Report Award, SYSU
2014, Excellent Undergraduate Thesis, RUC
2013, National Encouragement Scholarship, RUC
2010 &2011, Second Prize in Humanities Knowledge Contest in Beijing