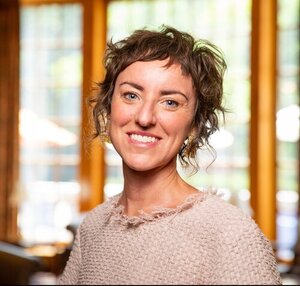 Community engagement and excellence in research and practice are some of the core strengths of the Department of Anthropology. Clinical Associate Professor Cris Hughes is contributing to this tradition with a long list of achievements to celebrate!  
In one of her latest accomplishments, Dr. Hughes achieved Active Diplomate status with the American Board of Forensic Anthropology, after a rigorous certification process. Since 1977, only 163 professionals have been awarded the ABFA Diplomate status, and Dr. Hughes now serves as one of the only two active Diplomates in our state.
Dr. Hughes took her commitment to forensic practice even further. She and Professor Ripan Malhi have been in discussions with the Illinois State Police (ISP) to explore ways in which the university can collaborate to offer expertise on emerging genomics applications to casework, as well as  other potential research opportunities for furthering forensics science practice within the state of Illinois. As a result of actively developing these collaborations, UIUC's Carl R. Woese Institute for Genomic Biology recently had the distinguished opportunity to host the inaugural meeting of the Illinois Forensic Science Commission, one of only 11 similar entities across the US. The Commission is tasked with finetuning forensic practices across the state of Illinois, and Dr. Hughes' appointment to the Commission as the academic representative is currently being considered by the state.
Last but not least, the  recent social media contest for the LAS favorite class of 2022 went to ANTH 246: Forensic Science! The course, co-created by Dr. Cris Hughes and Professor Ripan Malhi, won favorite class status this past weekend!  
Directory
santos3
Monica Fides Amada