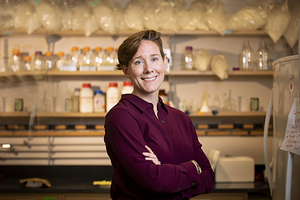 Join us in congratulating Professor Kathryn Clancy for earning the Provost's Distinguished Promotion Award!
The award is offered to a small percentage of academics whom the Campus Committee for Promotions and Tenure identifies as "exceptional cases of scholars whose contributions have been extraordinary in terms of quality of work and overall achievement."
Prof. Clancy's "truly exceptional"  and "stellar achievements" are recommended for "special recognition based on the scope, quality, and impact of [her] scholarship, teaching, service, and engagement efforts."  
More recently, Professor Clancy has been featured in many mainstream publications, and LAS News for her contribution to our understanding of menstruation and COVID-19 vaccination. Professor Clancy, along with Katharine Lee, a UofI PhD alumna and anthropology professor at Tulane University, have surveyed data of more than 35,000 people who menstruate for this research. 
Congratulations, Professor Clancy! 
Directory
santos3
Monica Fides Amada