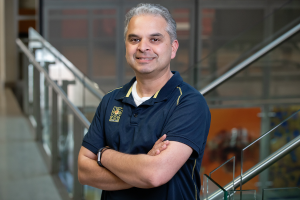 Professor Ripan S. Malhi is the new Director of Undergraduate Studies, starting Fall 2019!

Professor Malhi has been with the Department of Anthropology since 2006. Using DNA analysis methods, he traces biological evidence in an effort to understand the evolutionary history of populations and species.

Showing a strong commitment to interdisciplinary, anthropological research, Professor Malhi is the founder of the Malhi Lab for Molecular Anthropology, while he holds affiliate appointments with the American Indian Studies Program, the  Department of Evolution, Ecology and Behavior and the Carle R. Woese Institute for Genomic Biology.

Professor Malhi has also served as co-chair for the Committee on Diversity of the American Association of Physical Anthropologists, associate editor of the American Journal of Physical Anthropology and executive editor of Human Biology.

Topics of Professor Malhi's classes are Human Variation and Race, Forensic Science and Human Genetics. Furthermore, he has worked as Director of SING, a summer internship program to train indigenous students in genomic research.

Before entering academia, Professor Malhi was CEO and co-founder of Trace Genetics, a DNAPrint Genomics Company. Additionally, he has performed the duties of a forensic expert witness on multiple occasions over the years.

You can learn more about Professor Malhi's research interests and publications in his Illinois Experts and Academia profiles.
Directory
santos3
Monica Fides Amada