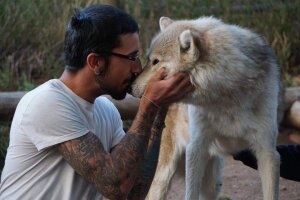 Contact Information
109 Davenport Hall
607 S Mathews
M/C 148
Urbana, IL 61801
Office Hours
309D Davenport Hall, by appointment.
Sociocultural Anthropology
Biography
Austin is a PhD student in sociocultural anthropology. In the past, his research has focused on political subjectivity, social movements, and the semiotics of protest. His work currently centers on the political ecology between humans, the state, wolves and wolf-dog crosses or hybrids in the contexts of the exotic pet-trade, wildlife sanctuaries, and wildlife management agencies. Austin strives to unpack how canids and other nonhumans are anthropomorphically racialized, gendered and politicized, and how such processes can ratify, deny, and problematize claims of subjectivity across species lines. This project is also concerned with modes of interspecies care and embodied communication, and how nonhumans figure within the ongoing structures of settler colonialism. 
Prior to graduate study, Austin was an organizer in the Fight for $15 movement, Food Not Bombs, Showing Up for Racial Justice (SURJ), and other grassroots causes. From 2016-2018 he was the Education Coordinator at Mission:Wolf, an educational wildlife sanctuary in southern Colorado for rescued wolves, wolf-dogs, and horses.
Research Interests
Canid-human relations; animal studies; wildlife management; multispecies ethnography; embodiment and phenomenology; biopolitics; comparative colonialisms; Indigenous studies; identity and constructions of whiteness; critical theory. 
Education
B.A., Sociology & Philosophy, University of Missouri-Kansas City, 2015
Awards and Honors
Department of Anthropology Summer Research Award, UIUC, 2020
summa cum laude, UMKC, 2015 
Honors Scholar, UMKC, 2015
Selene Scholarship in Philosophy, UMKC, 2014
Additional Campus Affiliations
Unit for Criticism and Interpretive Theory
Graduate Employees' Organization IFT/AFT Local 6300
Recent Publications
"Lupine Sensibilities: Dynamically Embodied Intersubjectivity between Humans and Refugee Wolves." Refract: An Open Access Visual Journal 2, no. 1(2019): 133-164. https://doi.org/10.5070/R72145860