The program in biological anthropology at the University of Illinois at Urbana-Champaign offers graduate training that integrates diverse research areas toward the common goal of improving
our understanding of human and nonhuman primate anatomy, adaptation, and evolution. The biological anthropology program includes ongoing research in primate social behavior, ecology, cognition, endocrinology, reproduction and sexual strategies, disease and conservation, quantitative genetics, skeletal biology, demography, primate growth and development, life history, biomechanics, functional anatomy, and primate and human evolution.
The biological

anthropologists in the faculty of the Department of Anthropology are actively involved in research in Costa Rica, Nicaragua, Bolivia, Brazil, Uganda, and Primate Research Centers in San Antonio, Texas, and Atlanta, Georgia, as well as in a wide variety of laboratories on campus including the Environmental Isotope Paleobiogeochemistry lab, and the Visual Media and Imaging Lab, Integrated Systems Lab, and Biomedical Imaging Center located at the Beckman Institute for Advanced Science and Technology.
Many of our faculty are affiliated with the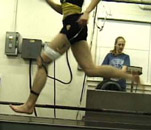 Program in Ecology and Evolutionary Biology (PEEB) and most have research collaborations with other units on campus including Mechanical Engineering, Kinesiology, and the Host-Microbe Systems Group in the Institute for Genomic Biology. We offer a wide range of graduate courses in our areas of specialty, and are also involved in teaching human gross anatomy in the College of Medicine. Our goal is to create an exciting and demanding academic environment that challenges doctoral students and prepares them to conduct outstanding research.
Graduate Alumni/ae
Name
Year
Position(s)
Elizabeth Mallot
2016
Postdoctoral Fellow, Northwestern University
John Lindo
2015
Provost's Postdoctoral Scholar, University of Chicago
Rodolfo Martinez Mota
2015
Postdoctoral Researcher, University of Utah
Nicoletta Righini
2014
Researcher, Institute of Ecology, Veracruz
Natalie Uhl
2014
Graduate Employees' Organization at UIUC
Mark Grabowski
2012
Lecturer, Dartmouth
Petra Jelinek
2012
Lecturer, University of Illinois
Krista Milich
2012
Research Fellow, University of Texas at Austin
Caie Yan
2012
Visiting Lecturer, San Jose Sate University and San Francisco State University
Milena Shattuck
2011
Visiting Assistant Professor, Duke University
Scott Williams
2011
Assistant Professor, New York University
Melissa Raguet-Schofield
2010
Tutor, Department fo Anthropology, Washington University, St. Louis
Bernardo Urbani
2009
Researcher at the Centro de Antropologia, Instituto Venezolano de Investigaciones Cientificas, in Venezuela
Greg Blomquist
2007
Assistant Professor, University of Missouri, Columbia, MO
Kristin Hedman
2007
University of Illinois, Illinois Transportation Archaeology Research Program
Martin Kowalewski
2006
Estacion Biologica de Corrientes (EBCo) - MACN, (Biological Field Station of Corrientes, Argentina), Scientific Coordinator
Barth Wright
2004
Post-Doctoral Researcher, George Washington University, Washington DC
Robin Bernstein
2004
Assistant Professor, George Washington University, Washington DC
Jennifer Rehg
2003
Assistant Professor, Southern Illinois University at Edwardsville
James Ostlund
2002
 
Jill Pruetz
1999
Associate Professor, Iowa State University, Ames
Julio Bicca-Marques
1999
President of the Brazilian Primatological Society and Associate Professor Faculdade de Biociencias/PUCRS, Porto Alegre, Brazil
Joanna Lambert
1997
Associate Professor, University of Wisconsin at Madison
Jolee West
1995
Director of Academic Computing and Digital Library Projects
Information Technology Services, Wesleyan University
Deborah Bakken
1994
Field Museum of Natural History, Chicago
Dale Hutchinson
1991
Professor, University of North Carolina, Chapel Hill
Kevin Kelly
1988
Adjunct Associate Professor, Dept of Anthropology, University of Iowa
Karen O'Neil
1986
Science Department Chair, Maryvale Preparatory School, Brooklandville, Maryland
Diane Mann
1981
U.S. Army Corps of Engineers Research Laboratory, Champaign (Deceased 2007)
Mark Teaford
1981
Professor, The Johns Hopkins University
Robert Rondinelli
1977
Medical Director, Younker Rehabilitation Services, Iowa Methodist Medical Center, Des Moines
John McCullough
1972
Professor of Anthropology, University of Utah
Russell Reid
1971
Emeritus Professor of Anthropology, University of Louisville
Milford Wolpoff
1969
Professor, University of Michigan