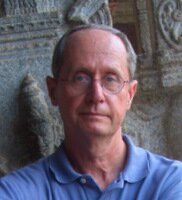 Contact Information
Department of Anthropology
607 S Mathews Ave.
M/C 148
Urbana, IL 61801
External Links
Highlighted Publications
REVIEWS
Lewis, Barry. Review of "Power, Memory, Architecture: Contested Sites on India's Deccan Plateau, 1300-1600" by Richard M. Eaton and Phillip B. Wagoner The Journal of Asian Studies, vol. 77, 2018, p. 1113-1114.
BOOK CONTRIBUTIONS
Lewis, Barry. "Village Defenses in South India." Encyclopedia of the History of Science, Technology, and Medicine in Non-Western Cultures, edited by Helaine Selin. Dordrecht: Springer Netherlands, 2016, p. 4357-4359.
Lewis, Barry. "India: Historical Archaeology." Encyclopedia of Global Archaeology, edited by C. Smith. New York: Springer, 2014, p. 3751-3760.
Lewis, Barry. "The Mysore Kingdom at AD 1800: Archaeological Applications of the Mysore Survey of Colin Mackenzie." South Asian Archaeology 2001, edited by C Jarrige, edited by V Lefèvre. Paris: Editions Recherche sur les Civilisations 2005, p. Vol II, pp. 556-565.
BOOKS
Understanding Humans: An Introduction to Physical Anthropology and Archaeology, 11th edition. Belmont: Wadsworth/Cengage Learning, 2013.
Lewis, Barry. Chitradurga in the Early 1800s: Archaeological Interpretations of Colonial Drawings, Indian Council of Historical Research, Southern Regional Centre, Lecture Series Publication 6, 2006.
JOURNAL ARTICLES
Lewis, Barry. "British Assessments of Tipu Sultan's Hill Forts in Northern Mysore, South India, 1802." International Journal of Historical Archaeology, vol. 16, 2012, p. 164-198.
Lewis, Barry. "Village Defenses of the Karnataka Maidan, South India, A.D. 1600-1800." South Asian Studies, vol. 25, 2009, p. 91-111.