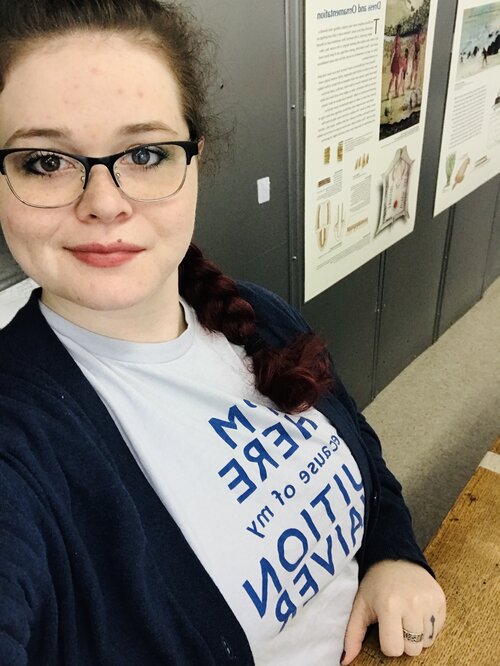 Biography
For the last nine years my educational and professional experiences have focused on understanding data management, public perceptions, and the role of medicine in society. My undergraduate degree is in Anthropology from Lindenwood University in St. Charles, Missouri with an emphasis on archaeology and a minor in psychology. While studying at Lindenwood I worked in the campus archaeology laboratory, completing preliminary analysis and curation on artifacts from a variety of historic archaeological sites in the St. Louis area, including early French colonial settlements. In 2014 I was the recipient of the Jesse Wrench Memorial Grant from the Missouri Archaeological Society, allowing me the opportunity to conduct preliminary research and archaeology survey on a farmstead in southwest Missouri. This research was presented to the Society for Historical Archaeology in Seattle, and my initial report was published in the Missouri Archaeological Society's quarterly publication. From 2015-2016 I acted as the site manager for the on-campus student-run archaeological excavation. I also interned for the St. Louis branch of the United States Army Corps of Engineers (USACE), where I created and maintained digital records libraries and document metadata as part of an ongoing project to digitize materials from research divisions across the St. Louis branch. I also received training to work with archaeological collections being rehoused.
Currently, I research medicinal choices and healthcare perceptions of the population of Springfield, Illinois during the late nineteenth and early twentieth century. My work concentrates on the Gilded Age (1870-1910) in America, which was characterized by an institutionalized shift in national consumption habits. The idea of mass consumerism was spurred by a new access economy at the time, and my research focuses specifically on how social dynamics such as cultural heritage, socioeconomic status, market structure, and branding efficacy shaped consumer healthcare choices. This research acknowledges the need for a greater understanding of how advertisements and consumer trends impact the purchase of medicine both in past and present contexts.
Research Interests
Historical archaeology, patent medicine, history of medicine, history of pharmacy, consumer studies
Research Description
I study patent medicine and consumer studies, particularly in Springfield Illinois. I focus my questions on how the rise of advertising and 'the death of expertise' led to the booming patent medicine market during the Gilded Age and what type of impact culture and tradition had on consumer choice. By using a large-scale data-based analysis of information from multiple archaeological sites in Springfield, Illinois, I closely examine how members of that community kept pace with national and global trends in medicine and advertising. My research focuses on understanding how the social dynamics within the town, market structures, and consumer preferences helped to shape the transformation of healthcare. My project utilizes archaeological artifact assemblages of Springfield, Illinois at a series of household sites across the city. Data from thirteen households across three major archaeological excavation sites throughout the city includes Polish, German, and Portuguese immigrants, data from lower- and upper-class areas, and the Lincoln Home National Historic Site (LHNHS), including data from the Lincoln house itself. My analyses also address the extent to which need and access drive consumer perceptions and purchasing choices, and how ideas about brand efficacy, the failings of healthcare, traditional folk cures, and marketing impact the purchasing process.
Education
In progress: PhD, Anthropology. University of Illinois at Urbana-Champaign.
                    ABD, March 2020
MA, Anthropology. University of Illinois at Urbana-Champaign
August 2016- December 2018            
B.A., Anthropology. Lindenwood University, St. Charles, Missouri
August 2012- May 2016   
Grants
2018 Summer Research Travel Funding; University of Illinois, Department of Anthropology
2021 Summer Research Funding; University of Illinois, Department of Anthropology
2015 Jesse Wrench Memorial Grant; Missouri Archaeological Society
Awards and Honors
2019 Shimkin Prize for Graduate Student Paper; University of Illinois, Department of Anthropology
2021 Forest T. Baker Award for American Anthropology; University of Illinois, Department of Anthropology
Courses Taught
Instructor of Record
ANTH 374: The Anthropology of Science and Technology (Spring 2021)
ANTH 379: Medical Anthropology (Spring 2019)
Teaching Assistant and section leader
ANTH 220: Introduction to Archaeology (Fall 2020)
ANTH 399: Virtual Reality
Teaching Assistant/Grader
ANTH 106: Historical Archaeology of the Americas
ANTH 180: The Archaeology of Death (Fall 2017 and Fall 2018)
ANTH 103: Anthropology in a Changing World (Fall 2016 and Spring 2017)